Michigan's Global Entrepreneur in Residence Program

Creating Pathways for Immigrant Founders

The Global Entrepreneur in Residence (EIR) program connects immigrant-led tech startup founders with universities, providing a legal solution to America's lack of a startup visa.



Global EIR
fills a gap faced by immigrant startup founders, including many international student founders, by providing a viable visa pathway to talented entrepreneurs who have a disruptive business idea and are interested in launching a high-growth startup in Michigan. These startups have the potential to grow exponentially, create jobs, attract angel and venture capital, and cultivate a significant economic development impact for our state.
The first-ever Global EIR program started in 2014 as a pilot project with the University of Massachusetts-Boston. Today, half a dozen colleges and universities across the U.S. offer a Global EIR program. Global Detroit launched Michigan's Global EIR program in 2018 with substantial support from the William Davidson Foundation.

Global Detroit currently has Global EIR programs operating at Wayne State University and the College for Creative Studies, which serve three founders from two startups. Five alumni founders have successfully exited the program.
Program Impact to Date
In 2022, Global Detroit commissioned an external
impact evaluation
of our pilot Global EIR program at the University of Michigan. Conducted by Growth Capital Networks, the evaluation produced the following key findings about our program's impact to date.
Overall, the The Global EIR program was found to have created a
stickiness
in the Southeast Michigan startup community, helping to retain not only the founders, but also those employed by their startup.
"Pre-pandemic, every job in a high-growth tech startup supported 5 to 6 service sector positions. This has changed since many offices are fully remote, but a conservative 2x multiplier could be used, giving the Global EIR program an impact of 98 full and part- time jobs as well as $30 million in extended economic impact."
CAPITAL GROWTH NETWORKS
Global EIR Impact Evaluation
Current Global EIR Founders
Simon Forster
Founder of PassiveBolt



Simon Forster, a native of Germany and founder of Ann Arbor based PassiveBolt, joined the Global EIR program at Wayne State University in 2021.

As a Global EIR at Wayne State University, Simon qualifies for an H-1B visa, which enabled him to move to Michigan and work with his partners to develop PassiveBolt. Through the program, Simon assists WSU's Technology Transfer department with patent reviews and works with its C2 pipeline program for high school engineers.
PassiveBolt recently launched a new software, already live in a Houston hotel, called KeyShare that provides a secure and user-friendly way for guests to access hotel rooms using their smartphones. This is the first decentralized, identity-based, physical access control solution in the world, a significant milestone for the security industry and for PassiveBolt.
PassiveBolt now employs about 25 people and core team members are all based in Michigan. They're completing their next funding round, and are currently focused on a decentralized identity platform that introduces cryptographic attestations for unlocking secure spaces. Simon intends to stay and grow his company here in Michigan.
"Supporting high-skilled immigrants has benefits for all Michiganders."

Simon Forster
Founder, PassiveBolt
Learn more about PassiveBolt
here
.
Miho Shoji and Alfredo Jaldin
Co-Founders of Moodbit



Moodbit cofounders, CEO Miho Shoji and CTO Alfredo Jaldin, were both born in Bolivia and educated in Chile. They cofounded the company in 2018, shortly after moving to the U.S., and landed in New York City, in part because of the NYC Economic Development Corporation's launch of a Global EIR program.

When the NYCEDC shut down its program, Moodbit chose to relocate to Michigan after conducting a national search of Global EIR programs. They applied to and were accepted into Michigan's Global EIR program in Fall 2021.


Moodbit is a people analytics solution that helps organizations make better decisions by bridging the People-Data Gap, improving employee engagement, productivity, and retention in the workplace. Moodbit uses real-time artificial intelligence and machine learning to build morale and increase productivity in the workplace through employee engagement.

Learn more about Moodbit

here.










Global EIR Alumni
Ashok Seetharam
Co Founder,
PAXAFE
Ashok is an experienced entrepreneur, startup advisor, and disciple of lean entrepreneurship with a strong background in biomedical and mechanical engineering and UI/UX design. Ashok got his bachelor's degree in biomedical engineering at VIT University and came to the US in 2014 to pursue a graduate degree in biomedical engineering at Brown University.

Ashok cofounded PAXAFE with Ilya Preston in 2017. PAXAFE continues to grow and is now building an IoP (Internet-of-Packaging) ecosystem of complementary technologies that keeps supply chains secure.

Since Ashok exited the Global EIR program, PAXAFE raised over $2 million in funding, which resulted in moving their headquarters and leadership team to Indianapolis, while Ann Arbor based staff continue to work remotely from Michigan.
︎ Global Detroit's Steve Tobocman and Ernestine Lyons interviewed Ashok on Michigan Venture Capital Asssociation's podcast, VC Talk, in June 2022.
Listen here.
Learn more about PAXAFE
here.
Chening Duker is originally from Ghana and Cameroon in West Africa. After making his way to London, Duker enrolled in the University of Michigan to study computer science. Chening was previously a software engineer at the cloud-based security company, Duo Security, and before that, was a director at Shift, a nonprofit and creator space for students who want to collaborate and build out their ideas, projects and ventures along with others.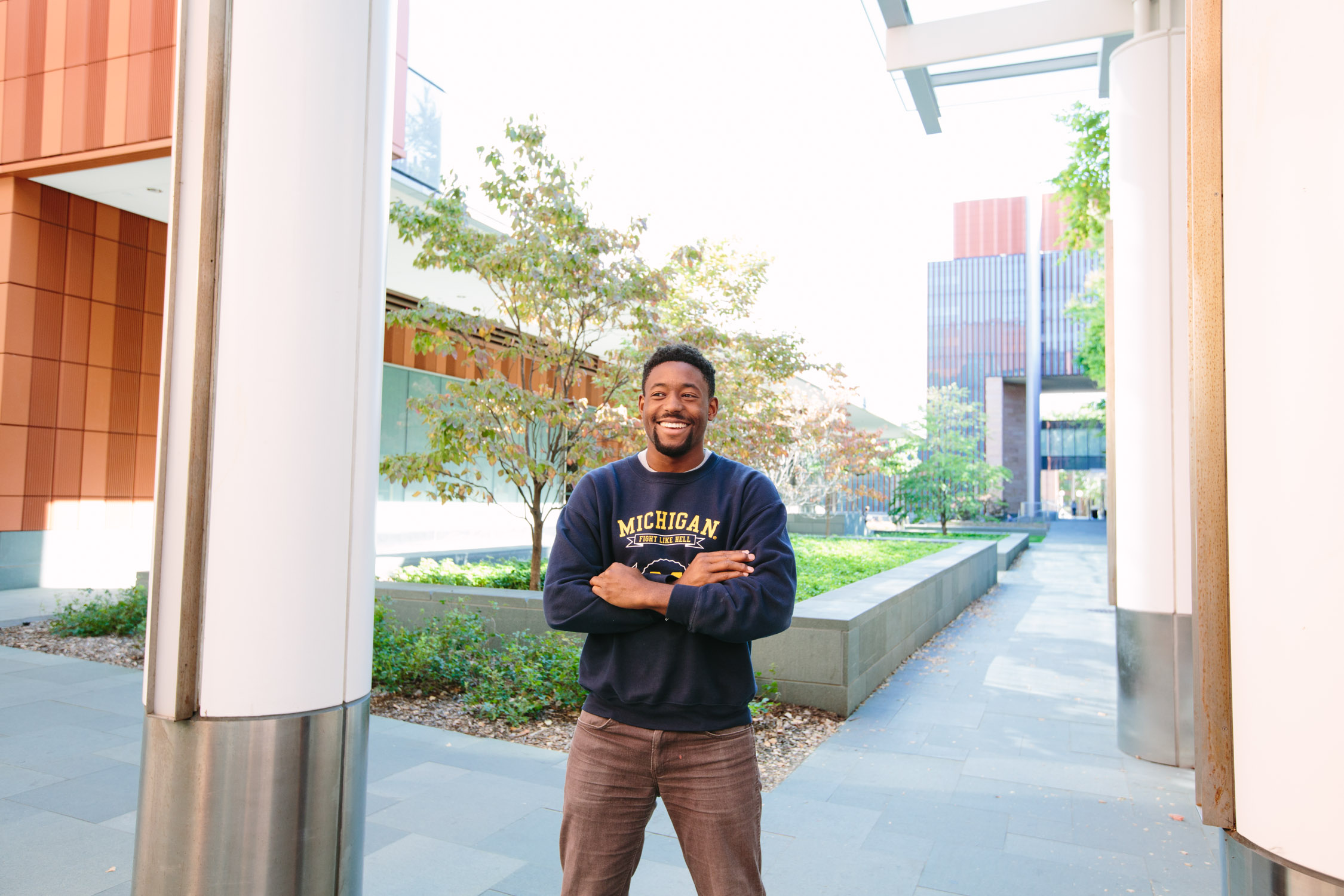 In 2020, Chening founded Goodpluck, a fresh produce delivery company serving Ann Arbor.
Goodpluck sources high-quality produce for less by working with local farms that are too small to sell to stores. Goodpluck then delivers produce baskets right to the doorstep of customers located in close proximity. Customer feedback has been extremely positive: In a recent survey, 100% of respondents said they would be disappointed if Goodpluck was no longer available.
In 2022, Chening was
accepted
into, and completed,
TechStars Detroit
accelerator, run by JP Morgan.
Learn more about Good Pluck
here.
A native of India, Ayush Agarwal is a product leader and angel investor who is deeply passionate about education. He is a graduate from the University of Michigan with a bachelor's degree in computer science, mathematics and statistics. Ayush led major initiatives at Google and Facebook. Prior to working in product management, Ayush worked in VC with Madrona Venture Group and was a consultant with McKinsey & Company.

Ayush cofounded Pencil Learning Technologies, a software solution that offers content management, workflows and communications for educators to structure and maximize student learning while saving time.

Pencil raised $3.5 million in investment during Auysh's time as a Global EIR. Since exiting the program, Ayush has continued to fundraise from his company's home base in California, with venture capital and angel investment in Pencil Learning Technologies now totaling over $5 million.
In 2022, Ayush and Pencil were selected to participate in
Y Combinator
, one of the world's most successful and prestigious startup accelerators.
︎ Global Detroit's Steve Tobocman and Ernestine Lyons interviewed Ayush on Michigan Venture Capital Asssociation's podcast, VC Talk, in June 2022.
Listen here.
Learn more about Pencil Learning Technologies
here.